I'd like to wish a lovely Happy Birthday to
Calli
by
Jessica Lee Anderson
! Welcome to the world, Calli! Jessica is a dear friend of mine, and I'm so excited for this book to be out in the world. To help mark this momentous occasion my friend
PJ Hoover
made this hilarious video, which I have a brief cameo in. If you're up to date on your Austin area authors, you'll see quite a few familiar faces.
Want to make Jessica's book birthday better? Comment on the video! Congratulate her on
Facebook
or
Twitter
!
A few months back Jessica was kind enough to sign a few postcards for me, so I'm passing them on to you! To enter, all you need to do is comment on this post wishing Calli and Jessica a Happy Birthday!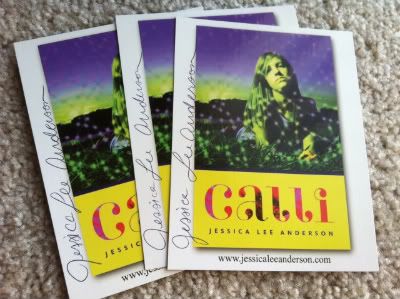 Rules:
*International giveaway
*You must include your email in the comment
*Contest will end Friday September 16th at midnight CST
*You do NOT have to be a follower to enter
Contest closed! Thanks for all who entered!
Good luck! And I'm so happy for you, Jessica. You are such a lovely friend to me, and I wish you all the luck in the world with
Calli
.