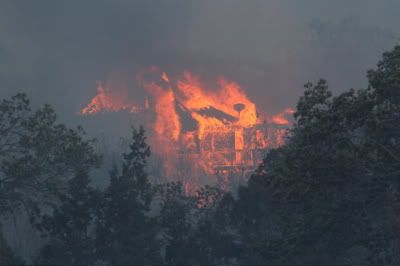 Home burning in the Steiner Ranch community of Austin (photo via
The Statesman
)
Hurricanes I can handle. Tornadoes I can handle. Any rain in general, really, I can deal with. But fire? I've never lived in an area dry enough for fire to spread, so this is all new to me and I'm not really sure how to deal with it if fire were to come our way. I've been staying on top of things by following the
Texas Storm Chasers
.
(Click here for their Facebook page
and
here for their Twitter feed
.) They seem to be updating things a lot faster than local newspaper and news stations. I also have a new appreciation for my Mom and Dad who are both volunteer firefighters. I know they'd be out here helping in a heartbeat if they could.
My dear friend
Jen
and her family had to evacuate yesterday due to fire and it breaks my heart for them. They think they may be able to go back home tomorrow, but no official word yet, I don't think. Please keep her and her family in your thoughts and prayers.
I know it's a holiday, but if you're in central Texas, remember not to grill today. Also if I see you throwing cigarette butts/ash on the ground I
WILL
call you an idiot to your face and probably call the police. Just a warning. ;)
Ways you can help:
*
Austin Christian Fellowship
is running a shelter and asking for both volunteers and donations of bottled water, toiletries, gloves, garbage bags, snhttp://www.blogger.com/img/blank.gifacks, etc.
*Donate directly to the
Central Texas Chapter of the American Red Cross
. (I signed up yesterday to be a volunteer for the ARC and have my volunteer orientation on Friday. If anyone is interested in joining me, please email me (StephanieNPellegrin@gmail.com) and I'll give you details. If you know of any other ways to help please let me know in the comments and I'll edit this post to include them.)
*
The Capital Area Food Bank
is asking for food donations
*Firefighters that are fighting the Steiner Ranch blaze are apparently asking for oranges and ripe bananas.

Edited 9.7.11
(This list was taken from the
365 Austin Page
)
What To Donate:
clothes
canned food
bottled waters
Tylenol/Advil/pain relievers
baby food
trash cans/trash bags
laundry detergent
socks
pillows/blankets
diapers

Where To Donate:
Central
BookPeople: 603 N. Lamar Blvd. 78701
Church of Resurrection: 2200 Justin Lane 78757
Gilda Grace Collections: 1818 W. 35th Street 78703
Austin Diocese: 6225 Highway 290 East – 78723
UT Campus Gregory Plaza: 11am-2pm daily
Sugar Hill Spa: 3027 N. Lamar #100 – 78705
Baker Street Pub: 3003 S. Lamar Blvd. 78704
Amy's Ice Cream – Super South: 3100 South Congress Ave. 78704
Malaga Tapas & Bar: 440 W 2nd Street 78701
St. Vincent de Paul: 1327 South Congress Ave. 78704
Alamo Drafthouse South Lamar: 1120 South Lamar 78704 September 7 6:30-9p.m.
East/Bastrop/Smithville
Peacock Salon: 1519 East Cesar Chavez 78702
Elgin Elementary School: 1005 W. 2nd Street Elgin 78621
Old Wind's/Dollar General Store: 210 Main Street Smithville 78957
Zion Church: 151 Shiloh Road Bastrop
Rundell Business Park: 704 W Highway 71 Bastrop 78602 call: 512-332-8661
Foundation Christian Ministries in Cedar Creek: 177 Union Chapel Road Bastrop 78602
North
Celebration Church: 1202 Rabbit Hill Trail Georgetown
McDonald's: 608 W. Hwy 79 Hutto
Unity Church of The Hills: 9905 Anderson Mill Road – 78750 -not taking clothes
Trashy Roots Salon & Spa: 117 Louis Henna Blvd. #150 Round Rock 78664
St. Vincent de Paul Church: 9500 Neenah Ave. 78717
Faith Family Services: 206 W. Live Oak Hutto 78634
Rowe Valley Events Center 155 CR 366 Spur, Taylor 512-639-1224 after 5: 512-297-8666
Click Computers of Georgetown 1102 S. Austin Ave #109 Georgetown
Paul Mitchell The School: 15635 Vision Drive #107 Pflugerville
Brigade Skate 511 Lake Road #105 Belton, Texas 76513
Lambs Tire and Automotive: 10740 Research Blvd. #115
Lambs Tire and Automotive: 11675 Jollyville Road

South
The Capital Area Food Bank: 8201 South Congress Ave. 78745
Fellowship SW Church in Buda: 3870 FM 967
Dart's Aloha Tattoo: 160 West Slaughter Lane 78748
Salt Lick BBQ: 18300 FM 1826 Driftwood 78619
Lambs Tire and Automotive: 2204 Slaughter Lane
West

Austin Ridge Bible Church: 9300 Bee Caves Road -78733 Drop off in Building "C"
Austin Christian Fellowship: 6401 River Place Blvd. 78730
Hill Country Bible Church: 12124 Ranch Road 620 North Austin 78750
Oasis on Lake Travis: 6550 Comanche Trail 78732
Also, drop off water, Gatorade, snacks to your local fire department for the fire fighters.

Pet/Animal Help:
What to donate:
dog food
cat food
crates
cat litter
toys
towels
beds
Where to donate:
Austin Pets Alive: 2807 Manchaca Road 78704
Austin Pets Alive is also helping with displaced pets email: pass@austinpetsalive.org or call 512-961-6433
All Dirty Dog Locations
:
Downtown: 710 W. 5th Street 78701
Guadalupe: 3016 Guadalupe 78705
South Lamar: 2300 S. Lamar 78704
William Cannon: 1901 William Cannon Suite 152 78745
Mesa Drive: 8108 Mesa Drive 78759