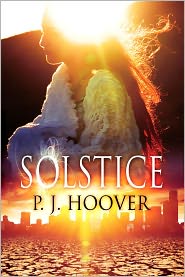 I recently read
Solstice
by my dear friend and fellow Austinite
PJ Hoover
and was blown away. I rarely do book shout outs, but this is one that I'd love to tell you all about, and encourage you to read. Here's the synopsis:
Where Mythology and Dystopia meet...

Piper's world is dying. Global warming kills every living thing on Earth, and each day brings hotter temperatures and heat bubbles which threaten to destroy humanity. Amid this Global Heating Crisis, Piper lives with her mother who suffocates her more than the chaotic climate. When her mother is called away to meet the father Piper has been running from her entire life, Piper seizes an opportunity for freedom.

But when Piper discovers a world of mythology she never knew existed, she realizes her world is not the only one in crisis. While Gods battle for control of the Underworld, Piper's life spirals into turmoil, and she struggles to find answers to secrets kept from her since birth. And though she's drawn to her classmate Shayne, he may be more http://www.blogger.com/img/blank.gifthan he claims. Piper has to choose whom she can trust and how she can save the people she loves even if it means the end of everything she's ever known.
And here is the beautiful book trailer! It's one of the best I've seen in a long time.
You can now purchase PJ's book through
Amazon
,
Barnes & Noble
, and
Smashwords
. I encourage you to give it a shot, and at $2.99 it's almost like PJ is giving the book to you. :)
Be sure to check out PJ's
website
,
Facebook page
,
Goodreads profile
, and
blog
.
And because PJ is so awesome, she has given me three signed
Solstice
postcards to give away to you, dear readers.
Rules:
* Contest is international
* Contest will end at midnight on Friday July 1st, CST.
* To enter, simply comment on this post
with your email address
.
* I'll email the winners and they have 48 hours to respond with their mailing address. If they fail to respond I'll pick more winners.
Good luck to you all!