Sorry for the lack of updates lately, I've had a serious case of the cooties that I'm still dealing with. I think I've watched about 174 hours of HGTV. I'm now a licensed realtor, interior designer, and house-flipper in case anyone needs any expertise in either field. (Also there is a serious lack of gardening on the Home and GARDEN network.)
Last week was a busy week for me. SXSW was in full-swing. I'd never really done anything during SXSW but when
Jen
called and asked if I wanted to go see
The Bangles
with her I couldn't say no. We got to see them perform and meet them, it was amazing!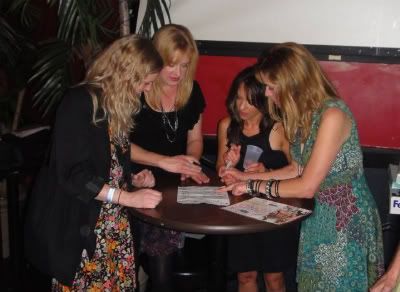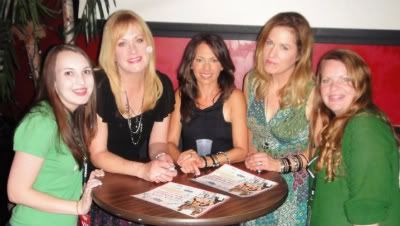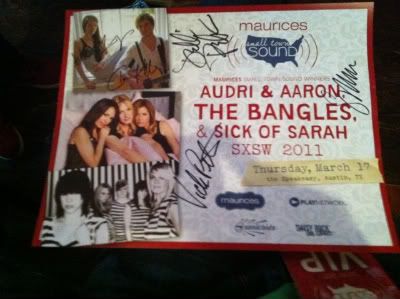 Once the show was over Jen and I were asked if we wanted to go to a VIP show and see
Hanson
. Yes,
that
Hanson. It was seriously a dream come true to see them perform. They were one of my favorite bands growing up (still are one of my favorites) and to see them perform in such an intimate setting was amazing.
They performed a new song and I recorded a bit of it. :)

After the show was over we went backstage to meet them. Yes I shook hands with Isaac, Taylor, and Zac Hanson. Sadly I didn't get a picture with them before we got kicked out for not having a media pass, I was a little bummed I didn't get a picture, but just meeting them and shaking their hands was enough for me. Jen took this great picture of Taylor. Eek!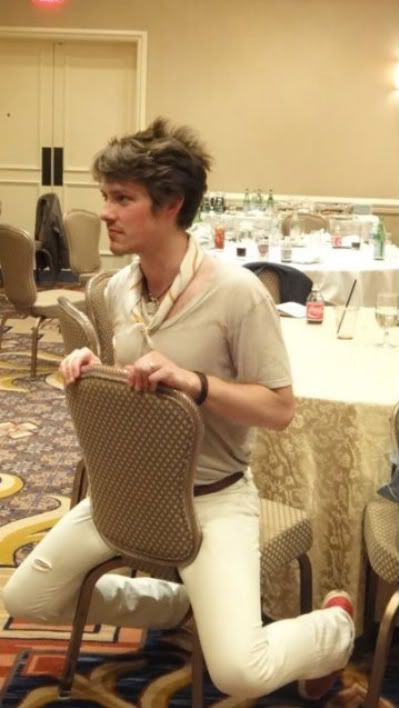 On the way to see Hanson we passed Michael Stipe (from
R.E.M.
) on the street! We asked if we could take a picture and his response was, "Hurry up, I'm walking here!" Ha ha! Hilarious!
The next day, believe it or not, was equally amazing. One of my other favorite bands,
Blue October
, was playing a free show later that evening and was expected to draw HUGE crowds. The Strokes had played a free show at the same venue the night before and drew a crowd of 20,000+. I wanted to see them, but didn't want to deal with that amount of crazy. I heard through the grapevine they were doing a radio interview with a radio station at a venue downtown, so I went to
stalk them
assess the situation. Sure enough, they walked through the door! Jen and I were ecstatic. We watched them do their interview and then got to meet with them and chat with them for a few minutes after. Another dream come true!
Since we met the bad, we decided to skip their show that evening in favor of going to a battle-of-the-bands type show hosted by
Kid Rock
. Yes, Kid Rock! Crazy!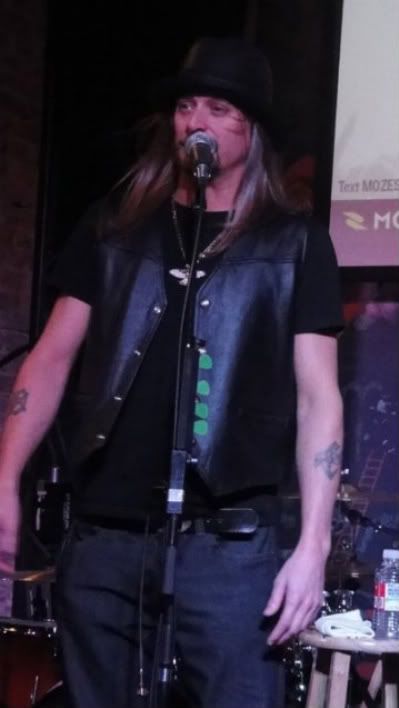 He never actually performed and was only on stage for a hot second, which was a bit of a bummer, but we still had a good time. Toward the end of the evening we got into a VIP room with him and the performing bands but his "body guard" was all over him so we couldn't get a picture. ZZ Top even made a brief appearance! Insane!
I know I complain all the time about how homesick I am, but I am thankful that if I can't be in Mississippi that Austin is my home for now. So many awesome things happen here that I never would have experienced had we not moved here. Can't wait to see what happens next in my life!
PS- Thanks to Jen for letting me steal a few of her pics. :)