Today I am featuring the bookshelves of the lovely
Kristin Rae
! I love her bookshelves. Her hubby is a handy-man and built it for her. I'm not going to lie, I kind of want one. Let's let Kristin tell us a little about her shelves and then we'll get on to the pictures.
Here is the lovely (and heavy!) bookshelf that Handy Hubs built for me that has yet to be painted. In the top section are books I read when I was younger--the Mandie series, Little House, etc. I also have a big box of old children's books in the closet. No reason to have those on a shelf anymore (or yet!). On the next level down there are a lot of classics--Pride and Prejudice, Emma, The Count of Monte Cristo, Fahrenheit 451, Animal Farm... and a lot of other books we read in HS along with Tolkien and Frank E. Peretti. The next couple of shelves are mostly filled with young adult novels. The Harry Potter series used to be stacked all fancy in the big square mid-right, but I wanted to see all of the books I still need to read together in one place... so that's in the square now--my daunting TBR Pile. Underneath that are books that happen to fit on that shelf, and a stack of books I plan on trading or giving away. The rest are mostly text books I couldn't get rid of (some weather and sociology studies), health and fitness books, Bible Studies from HS and college, HS yearbooks, language books (because I think I can teach myself Spanish and Italian apparently), and other odd sized books that fit in the bigger sections.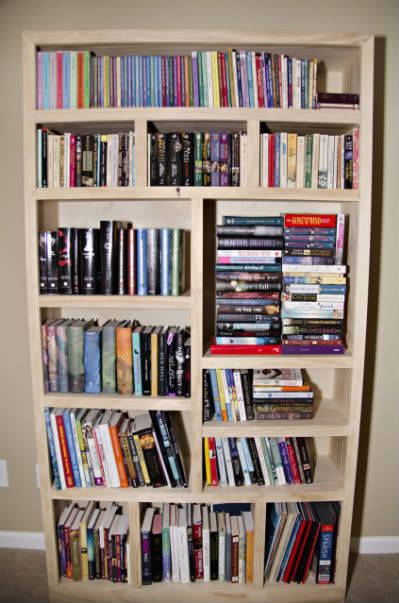 Thank you so much for letting me feature your bookshelves, Kristin! I think we're all guilty of having that huge TBR pile, hu?
If you want your bookshelves featured on my blog, email your pictures to StephanieNPellegrin@gmail.com and also include a paragraph telling me about your bookshelves, you, what books you like to read, etc. Happy reading!