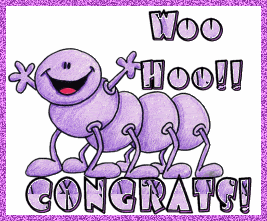 Wow thank you to everyone who entered! The turnout for this contest was a bit overwhelming. I had over 200 entries. I'm usually lucky to get over 30 in a normal contest, so to have 200 people enter is crazy. Don't worry, I won't make you wait any longer. Random.org picked the numbers 67, 58, 131, 196, and 46 for me. The people with those numbers are...
67- Susan Dorta
58- Lucia Hua
131- Heather McCorkle
196- Jayne Watkins
46- Alyssa Stacy
Congratulations to Susan, Lucia, Heather, Jayne, and Alyssa! I have emailed all of you requesting your mailing addresses and you now have 72 hours to respond. If I don't get a response within the 72 hours I will have to pick another winner to give your prize pack to, so be sure to email me back!