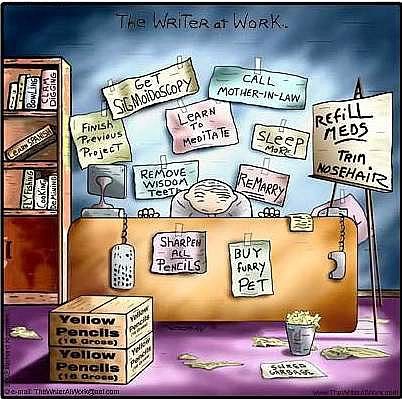 This has been a busy week for me. So far pretty much every day has been as follows:
Write
Write
Drink a caffeinated beverage
Write
Read
Write some more
Remember I never ate
Remember I never showered
Remember I never did laundry
Write
Read
Sleep
I think my right eyeball is going to pop out of my head soon. It's been bloodshot for a few days and is getting worse, and starting to hurt a bit. I really need to look into doing something about eye strain, I guess.
Obviously the "write more" and "read more" part of my 2011 to-do list is going well, as well as the "don't clean" part of my don't-do list. I finished reading my 3rd book for the week yesterday and am
this close
to passing the 20K mark on my WIP. I'm nearly a third of the way finished with this first draft and to say I'm exhausted is an understatement. I don't write linearly (though I wish I did), I write the "important" scenes as they come to me. I need to add more details and back story and kissing scenes with cute boys. I'm also freaking out a bit because I'm realizing that at some point all these random scenes need to come together and form a cohesive story. Gulp. To add more stress in my life, I've given myself a deadline of March to have this first draft done, with time to rewrite and edit through the summer. Double gulp.
This is the first thing I've ever written that I haven't meticulously outlined on paper. I mean, I know the beginning, middle, and end, but I don't know the stuff that happens in between. I didn't think I'd like doing it this way, but it's been very refreshing, actually. I didn't realize how much I missed sitting down and
writing
and not having to trash scenes because "they don't fit in the outline." It's been quite freeing.
I'm also beginning to experience the first tiny inklings of self doubt with this WIP. I feel like my little contemporary doesn't stand a chance of making it in a market flooded with paranormal. I've had so many people tell me, "Don't worry about the trends, write what you know and love." and I've done just that. I listened to advice, and my gut, and am writing what
I
want to write. I just hope I'm not making a big mistake in doing so. *headdesk*
So... that's been my week this week. I should probably go shower now.