Last Wednesday started out with a long car trip, which involved Husband and I getting up at 3:30 (AM!) in order to be on the road by 5:00. Neither of us are morning people, and car trips seem to bring out the worst in us. I'm a terrible backseat driver and I feel the need to nitpick everything Husband does. Luckily, the 10 hour trip went by without many issues.
We got in Wednesday just in time for supper (Mother-in-Law cooked a lovely chicken alfredo) and I made the drive to my mom's house after we ate to see my family for a bit. As I was driving the dark country roads, it hit me how much I dream about being back home and don't even realize it. Specifically driving to my parent's house in the dark, as I was doing that evening. It was a weird deja-vu moment. I arrived and was greeted by my almost 6 month old nephew. I haven't seen him since he was born and man has he grown! He can roll over and almost sit up by himself, and he's very close to crawling. I miss him so, so much!!
Thursday was Thanksgiving day. Husband and I got up and watched a bit of the parade with my in-laws as we all slowly got ready for the day. MIL cooked a lovely Thanksgiving lunch and we then went to my grandmother's for supper. I'm not going to lie, I
love
my Memaw's cooking (who doesn't love their grandmother's cooking?). Her and my Pepaw grow most of their vegetables in their garden, so everything is fresh and delicious.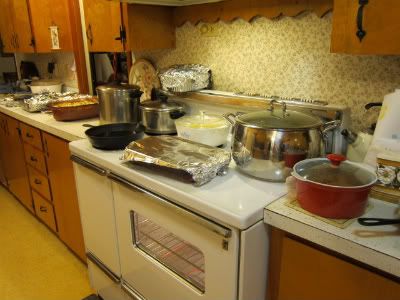 Our lovely Thanksgiving spread
Memaw frying okra (my favorite!)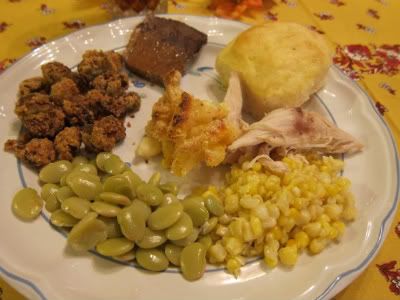 Nom!
Chicken and Dumplings, my other favorite!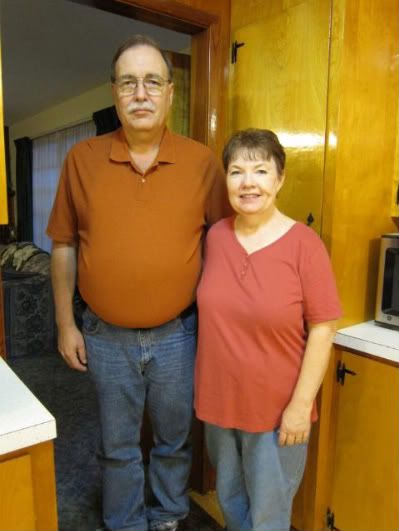 My cute, cute parents!
My poor Dad is always the last left at the table. ;)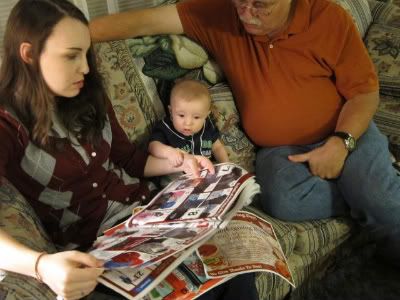 Dad, Bryce, and me looking at the Black Friday sale papers.
Friday was, of course, Black Friday. It's tradition for my Mom, Memaw, and myself to go out that day. There usually isn't anything we want, I just like the sport of it all. My sister even got up early to join in all the fun! I snapped a quick photo of us in WalMart as we got our game-plan together. I only got a couple of things that day: A steamer (for floors), a pair of cowgirl boots, and a cute hat.
Saturday was spent mostly as a recovery day from Black Friday. Then Sunday was church. I haven't seen my church family in quite a while, and I always forget how much I miss my home church until I'm there.
After church on Sunday we got a phone call that Daisy, our guinea pig, wasn't doing too well. We left her and Chloe with our pig sitter while we were out of town, and you'll remember that Daisy was diagnosed with Pneumonia about a week and a half prior to this. Despite our best efforts, our sweet Daisy passed away on Monday, November 29th. Two years and two days after her big sister, Lily. To say I'm sad is an understatement. I'm devastated. Heartbroken. Daisy was our baby. She was a tiny runt of a thing when we got her, and she always had respiratory problems, so it wasn't a huge shock to see her go this way. However, we did think she was getting better. I took her to the vet the day before we left and we were all shocked at how well she was doing. I don't think we would have left town had we known she wasn't going to make it. I'll always feel guilty about not being here when she passed away. I feel like she thinks we left her and tried to hang on until we got back to say goodbye to us. She just couldn't wait any longer. Thank you for all the love and joy you brought to our life, sweet girl. We will miss you more than you ever know. I hope you're finally at peace. Goodnight, our sweet méiméi. Sweet dreams.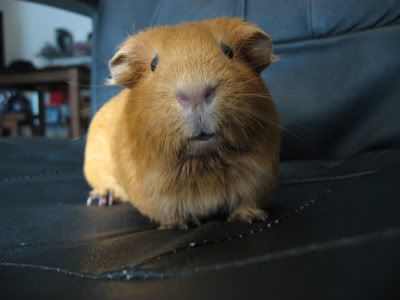 On a bit of a happier note, we bought new living room furniture and it was delivered yesterday! We are now the proud owners of a lovely leather sofa and recliner. Hopefully someday we'll have the house completely furnished like actual grown-ups! Thank of it, maybe even a coffee table! A table just for your coffee! How posh will we be? ;)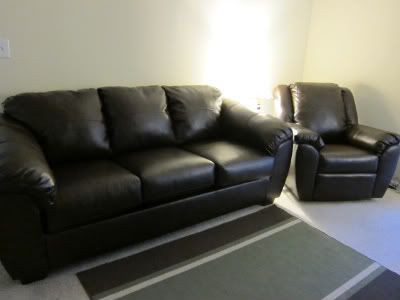 This is my first week not working. I've been so busy doing post-trip things I honestly haven't noticed. I've been trying to get myself on a regular writing schedule, but I think it'll take a while to figure out what works and doesn't work for me. Any other stay at home writers out there? How do you keep yourself motivated while at home?