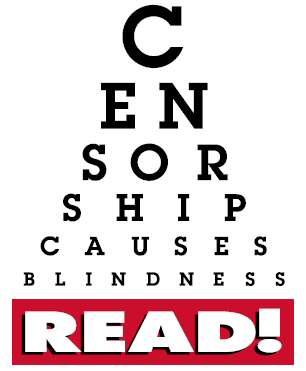 Banned Books Week started this week, and I'm curious to know what your thoughts are. Growing up in rural Mississippi I'm honestly surprised we were allowed to read what we did.
We read
To Kill a Mockingbird
in 7th grade (Looking back seems a little heavy for a 7th grade class? But I guess we all turned out okay. Right?), and I was surprised a couple of years ago when I found out it was challenged and banned in so many places. I need to give it a good re-read because I don't remember the book being overly racial.
I don't have a problem with you censoring what your child reads. The key word in that sentence is YOUR child. I get up in arms when
one
parent (or librarian or anyone for that matter), makes such a big deal about a book that the school or library takes it away. I also find it funny that most of the time, the parent hasn't even
read
the book.
I can remember my junior year of high school reading
Of Mice and Men
by John Steinbeck and a few students and parents had problems with the book, but nothing was ever done. Some parents said they didn't feel comfortable letting their child read "things like that" and they were allowed to read something else. My Mom read the book shortly before I did because she wanted to see what all the fuss was over. She apparently didn't see anything overly wrong with it, I read the book, and that was that.
Maybe my views on this topic are slightly skewed. Our only bookstore was small and super expensive, and our local library didn't have much in the way of middle grade/young adult books. I probably read
The Chronicles of Narnia
a dozen times and checked out every single
BabySitter's Club
and
Sweet Valley High
books more than once because that was pretty much the whole MG/YA section. I loved to read so I was forced to read adult fiction at an earlier age than most. I was probably around 12 when I read Wally Lamb's
She's Come Undone
. It was almost a life-changing experience for me. I realized life wasn't all unicorns pooping rainbows, and life was hard and difficult. For a parent to take that experience away from a child makes me a little sad.
With that being said, I now have PRIZES to give away! For the first five people to comment telling me about the first life-changing book they ever read, I will mail you an American Library Association Banned Books Week bookmark!
Rules:
* Comment on this post telling me about a book that changed the way you looked at life (banned or not) and let me know how it bettered you as a person.
* Remember to include your email in the comment so I can get your mailing address. If an email isn't included, it doesn't count!
* This particular giveaway will be US only :(
* I only have 5 bookmarks, so only the first 5 people who comment will receive a bookmark, however please feel free to tell me your favorite life changing book!
* You do not have to be a follower or anything to enter, simply comment.
Also, do you plan on doing anything to celebrate Banned Books Week this week? I made a trip to the library this morning and came back with
The Earth, My Butt, and Other Big Round Things
by Carolyn Mackler and
The Chocolate War
by Cormier. I also wanted Catcher in the Rye, but it was checked out, which is good I guess! Happy reading and don't forget to enter my
Smart Chicks swag giveaway!