When I first started mingling with some of the YA authors on the interwebs (through Goodreads at first, then Facebook and Twitter),
Eyes Like Stars
author Lisa Mantchev was one of the first authors that took time out of her day to answer my never ending (and often stupid) questions about the writing/publishing process (and anything else I could think of). I thought it only appropriate that she the first author I interview for my blog! Let's get started: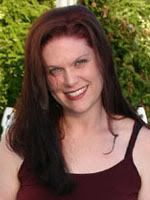 Me:Where did you grow up? What was your childhood/high school years like?
Lisa: I grew up in Ukiah, California, a small town about two hours north of San Francisco that's famous for the Fetzer and Parducci wineries, pears, and the band AFI. I have very fond memories of my childhood, and in retrospect, high school wasn't nearly as bad as I thought it was!
Me: Favorite book as a child?
Lisa: Ballet Shoes, by Noel Streatfeild (and the entire Shoes series.)
Me: Favorite recently read book?
Lisa: Flora's Dare, by Ysabeau Wilce. It's the sequel to Flora Segunda, and I really love Ysabeau's world and wordplay.
Me: What are some of the previous jobs you've had?
Lisa: In high school, I worked at a country-western clothing store. In college, I worked summers at a mineral springs resort, as a would-you-like-take-a-survey girl at Blockbuster, and I tutored English SAT prep. Then after graduation, I taught English and theater at a bilingual private elementary school.
Me: If writing (and anything to do with theater) weren't a possibility, what profession do you think you would have chosen?
Lisa: I would most likely still be teaching... I really loved being around the kids.
Me: How much research do you do before (or during) you write a book?
Lisa: A LOT. I can lose days in research.
Me: What will you work on (besides edits) now that the third installment of Theater Illuminata is finished?
Lisa: I am actually revising the first in a retrofuturist NeoVictorian series (steampunk!) and I actually have a spin-off idea for the theater books, should readers prove interested in reading more set in that world.
Me: Any pets?
Lisa: Right now, we have three dogs, two outside cats, a lionhead rabbit, and a very silly goldfish.
Me: If you could spend a day with any fictional character, who would it be?
Lisa: Howl, from Diana Wynne Jones's Howl's Moving Castle.
Me: If I were to open your fridge, what would I find in there?
Lisa: The bottom shelf always has lowfat milk, multiple kinds of juice, and chicken and brown rice (for the dog with allergies). Veggies and fruits in the bottom drawers, condiments in the door. Organic brown eggs. Homemade yogurt. And a single leftover slice of chocolate ganache cake leftover from my husband's birthday.
Me: Any particularly embarrassing moments?
Lisa: I don't think I've ever been so mortified as the day I sat in some guacamole at a Cinco de Mayo festival. I was in fourth grade, and the boy I liked pointed out the mark on the back of my shorts!
Me: What's your writing style like? Do you outline extensively?
Lisa: Writing style tends toward the surreal, I think. And I do outline extensively, but I also fly by the seat of my pants, shifting and rewriting the outline as necessary as I write.
You can go to Lisa's
website
to find out more information about her books, read her
FAQ's,
and find out bounds of more information.
To thank Lisa for taking time out of her busy schedule for me, I'm giving away an ARC of the second book in the Theater Illuminata series,
Perchance to Dream!
Contest Rules:
* Simply leave a comment on this post (WITH YOUR EMAIL ADDRESS!) to be entered! While I'd love for you to follow my blog or follow me on Twitter, I want you to follow me because you think I'm cool, not because I'm having a contest. :)

* Contest ends in two weeks on March 23rd, Midnight CST.

* I will pick a number using a random number generator.

* If you're picked, I will email you giving you the good news. If you do not respond to my email within 48 hours, I will have to pick another winner.

* This contest is international! Anyone can enter.
THE CONTEST IS NOW CLOSED! Thanks to all who entered!
Lisa, thank you again for all you have done (and continue to do) for me. I can't tell you how much you've influenced me over the past year or so. *major hugs* Now get to spreading the word, faithful blog followers! You have TWO WEEKS! :D